International Heritage monument in metro Detroit.
Pallavas were the initial rulers to invent stone architecture. They had revolutionised the carving techniques in stone architecture.
The temples were a significant architectural innovation as they marked the transition from wooden structures to stone. An inscription on the temple calls it the Laksita-yatna and dedicates it to Brahma, Isvara, and Vishnu. Prior to them there were many palaces and temples built using a combination of materials that did not withstand the natural calamities. Due to which Pallavas decided to build a temple for Trimurthis completely in stone knowing about the eternal properties of stone. With the above facts into consideration, we can see that the temples of ancient period where constructed in stone and that most of these structures are still standing in good condition against the forces of nature.
"The Rajagopuram at Parashakthi Temple will be 54 ft tall and will in-corporate the ancient stone archi-tecture and per Divine Mother's instructions, the stone that will be used was naturally procured without using modern artificial methods of blasting techniques to the mountain. This is in accordance with Divine Mother's guidance that cosmic forces present in the Gopuram know only pure love and compassion, and using the slightest violence disturbs them. The Gopuram will have nearly 2,000 stone carvings weighing 300 tons making this an Architectural wonder in recent history."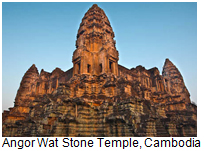 The rulers of Khmer dynasty had a great fascination of stone architecture. An inscription in Angkor Wat, Cambodia says that "all non-religious buildings, including the residence of the king himself, were constructed of perishable materials, such as wood, because only the gods had a right to residences made of stone."
The technology involved in using stone as a building material is unique and outstanding. The bonding methods, corbelling techniques, assembling of stone courses are based on complex geometrical knowledge that can be applied in creating wonders even today. Reinforced Cement concrete was invented 50 years ago which is widely in use in todays Architecture. The durability of R.C.C works range from 30 to 40 years only when compared to the long lasting stone architecture.
Therefore considering the above facts, we can create a revolution by constructing stone temples in 21st century which will be longstanding making way for the future genera-tions to speak about the sacred science and technology of Indian culture, art and Architecture.