Devi Pratyankara Ambika along with Sri Sarabareswara will be installed on the west side of our Rajagopuram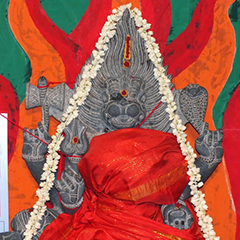 Pratyangira is the lion headed form of the Divine mother. Prathyangira Amman is believed to have been manifested to calm Narasimha Swami's anger and to save the world from his ugraham after he killed demon Hiranyakashipu. Narasimha Swami's ugraham was unbearable since he consumed the intense evil and could not be pacified by other Gods. They feared that his anger and the consumed evil energy of Hiranyakashipu within Him might destroy the three worlds and all creations will come to a stand-still.
When all the Gods failed to calm him, they approached Lord Shiva to help calm Narasimha Swami.
Lord Shiva invoked the Tri Shakthis (Parvati, Mahalakshmi & Saraswathi) and with their combined powers manifested in the form of a Sarabha Pakshi as Lord Sarabeshwara. This is the most powerful aspect of Lord Shiva and even then Narasimha Swami was not pacified and battled successfully with Lord Sarbeswara. Our Divine Mother Maha Mayee, the origin of our universe finally appeared as a huge fearful Goddess called Prathyangira. Devi Pratyangira along with Soolini Durga gave wisdom to Narasimha Swami who then realized the mission of his Avataram and calmed immediately and thus allowing for creation to continue.
The beejaksharam (seed letter) of her is ksham (bliss). Sri Maha Pratyangira Devi is all powerful and secretly protects devotees and when properly invoked prevents all types of harm to Devotees. She is within each and every being in all planes of existence, and there to be awakened within.
The impetus for the installation of Lord Sri Lakshmi Nrisimha at Parashakthi Temple in October 2007 came as a result of Divine Thuriya meditation experience by Dr. G. Krishna Kumar, during which he was instructed by Divine Mother Parashakthi to install the Lakshmi Narasimha deity in order to ensure the suppression of evil forces and victory of the righteous.
Lord Narasimha Mantra is: Aum Ugram Veeram Mahaa Vishnum Jwalantam Sarvatomukham Nrusimham Bheeshanam Bhadram Mrutyu Mrutyum Namaamyaham
Devi Varahi Ambika at Parashakthi Temple
Devi Varahi Ambika the Shakti of Vishnu Avatar Varaha. As Vaarahi ("boar-faced' or 'the great consumer') She destroys evil forces that obstruct the devotees' progress, and leads Her devotees ultimately to Sri Vidyas. Just as the boar digs the earth, She digs out the negative qualities in us. She is classed as the fifth among the seven "protective mother-like" divinities (Saptamatrukas and hence also called Panchami).